Copyright © 2016 Pure Image Ministries, International, Inc. All Rights Reserved.
Upcoming Events at a Glance: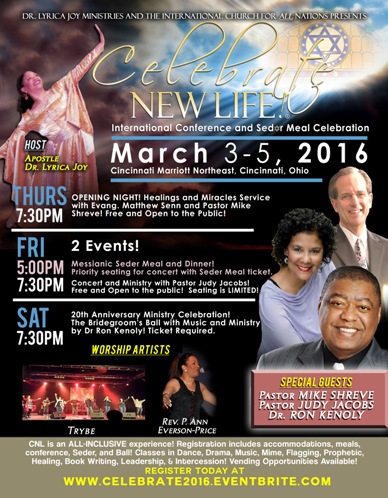 Thurs. - Sat., March 3-5, 2016 - Cincinnati, OH

Celebrate New Life 2016 International Conference

Celebrate New Life is centered on the Passover

and the POWER of the Resurrection!

Hosted by: Apostle Dr. Lyrica Joy,



International Church for All Nations
Cindy Clark, founder of Pure Image Ministries Intl

will be teaching "Intimacy and Intercession" sessions.

Schedule of Events will be coming ...

Cincinnati Marriott Northeast

9664 S Mason Montgomery Rd

Mason, OH 4504



Click button below to view more information

and to register.

Marriott Cincinnati Northeast -

9664 S Mason Montgomery Rd, Mason OH 45040